Beautiful Website Design Hailsham, East Sussex
Pineapple Web Design is an experienced & skilled team providing Hailsham website design. We have carried out successful projects for many clients. Our web design has helped them to establish their online presence and increase their business. We have skills in many different web-related technologies. This allows us to identify and use the best solution for your needs. Your business is in safe hands with us. We always aim for the best industry standards to achieve consistent high-quality results for you.
To maximise your business, we can carry out many different services. For new businesses we can build a fantastic solution to start your online presence. If you already have a business and a website, but you need a fresh approach to increase your sales. We have helped clients with existing websites to double their sales and more in some cases. A website is the first interaction and potential customer has with your business. So it needs to shine and get the point across. Without an effective website, your business will miss out on the opportunity to reach new customers.
Case Study: Hailsham Pavilion
We worked with The Hailsham Pavilion to develop a brand new online booking website. As a result, they were able to double their online sales. We also added a flexible and secure content management system to their new website. So that they can update their website with ease.
Due to the success of the website and booking system we created for them, we continue to work with them to achieve even more. We really enjoy helping them grow and we would love to help your business too!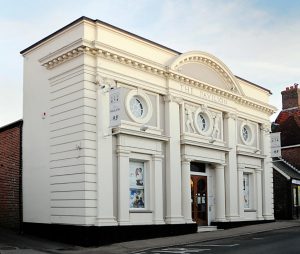 To ensure a high standard and achieve your goals, we use the following steps:
Research
We take the time to understand your business and your audience.
Design
With a clear plan, our expert website designers produce colour mockups for your feedback.
Develop
Only once we receive design approval, our coding experts move ahead with the first build.
Refine
We make sure you get the chance to provide feedback and request amendments.
Launch
When you are ready and our high standards are met, we launch the website to the public.
Don't stop at Web Design! Check out these other services which our experts can provide: