Awesome Web Design in Bexhill, East Sussex
We can help your Bexhill business grow, whether you are starting a brand new venture or wish to maximise an existing business. With new businesses, we will help you establish your presence online with the greatest impact. With existing businesses we will help you increase revenue and take your website to the next level. If you need a few tweaks here then, we can help you also. When working with new clients always aim to understand your goals. This enables us to build the best solution for you. We don't sell you anything you don't need.
We deliver web design with expertise and care. As well as understanding your business goals, we research your audience and competition, so that we can tailor the user experience. We optimise your website for the best customer experience, which helps drive sales. Furthermore, with 50% of web browsing on mobile devices, we carry out mobile web design. This means that your customers will have the same great website experience whether on the desktop or mobile. Finally, we optimise your website for speed. So that potential customers are not turned away by slow page loading. Your website will look good, work fast and get results.
Your website is often the first impression that your customers have of your business. Creating a great website will create a great reputation before you even start. Our clients have seen their sales double due to our excellent web design. We can help you to make the right start online and take your website to new heights.
You web design project will go through a series of professional stages to ensure a premium-quality website that realises your vision.
Discover
We work with you to understand your vision and requirements.
Design
Our skilled designers create mockups of the website design for your feedback.
Build
Once you approve the final designs, we begin the development stage to build the first draft
Review
You will be able to review the first draft and make changes where required.
Deliver
Once the project is completed to our premium standards and you are ready, we launch your new website.
Case Study: Angevin Roofing, Bexhill
Angevin Roofing Bexhill were unable to update their static website. We built them a brand new website with an easy-to-use content management system. Now they are able to edit their website content whenever they need to. We also helped them with Search Engine Optimisation to increase their ranking on Google and get more customers. Furthermore, we built an online quote generator for them. This has saved Angevin Roofing loads of time, especially when they are out on the job and need to quickly create a quote for a new potential customer. Overall our work has helped to upgrade and improve their website experience so that they can make customers happier and keep their business growing.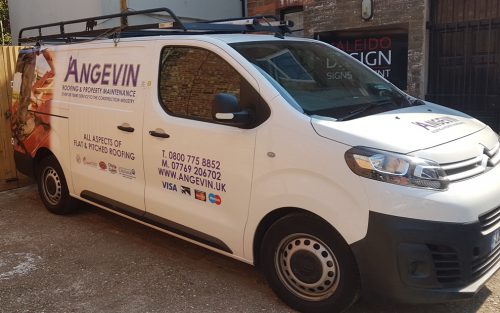 Does Your Website Need Upgrading?
Please check out some of other services, which can help your business to succeed on the web: